THE HIGH-GRADE SPRINGDALE GRAPHITE PROJECT (100%)
The high-grade Springdale Graphite Project is located approximately 30 kilometres east of Hopetoun in south Western Australia. The Project is situated on freehold land, with good access to infrastructure being within 150 kilometres of the port at Esperance via sealed roads. There is grid power and piped gas accessible at the site.
The tenements lie within the deformed southern margin of the Yilgarn Craton and constitute part of the Albany-Fraser Orogen. Comet owns 100% of the two tenement's (E74/562 and E74/612) that make up Springdale project.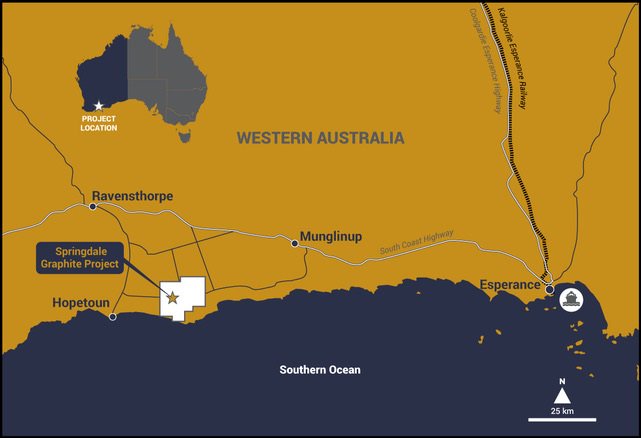 Background
Comet completed a first pass aircore drilling program in February 2016, which confirmed that graphite was present (Western Zone). A detailed aeromagnetic survey was conducted in November 2017 and interpretation of the survey delineated 26 kilometres of stratigraphy deemed to be prospective for graphite mineralisation. Less than 20% of the identified stratigraphy has been drill tested, indicating the potential scale of the Project.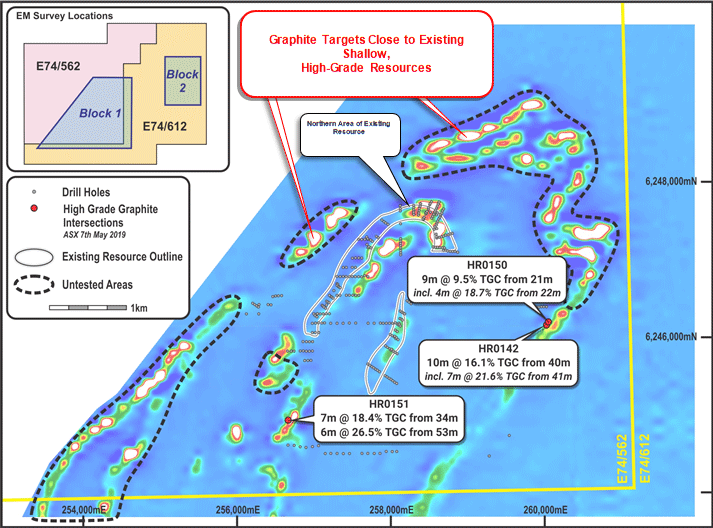 The Northern zone was identified as a high priority drill target and an RC drilling program completed between December 2017 and February 2018 was successful in identifying high-grade graphite mineralisation in the Northern zone.
In April 2017 metallurgical testwork proved that graphene can be produced from Springdale by electrical exfoliation. It is very rare for a graphite deposit to be able to produce graphene using the exfoliation method on solid, untreated rock and in December 2018 Comet released a maiden Inferred Resource of 15Mt @ 6.0% Total Graphitic Carbon (TGC) including a high-grade component of 2.6mt at 17.5% TGC, incorporating the Northern, Eastern and Western Zones.
The discovery of two new high-grade zones of graphite mineralisation outside the existing resource was announced in May 2019. The results of the drilling program confirmed that electromagnetic (EM) surveys could be used as a targeting tool for shallow, high-grade graphite mineralisation.
EM has proved to be a powerful targeting tool for shallow, high-grade graphite at Springdale and provides the opportunity to reduce exploration costs through more accurate drill targeting.
Results of Metallurgical Testwork read more
Following a diamond drilling program in 2019, Comet engaged a specialist metallurgical team with significant graphite-specific experience team to undertake the analytical and metallurgical testwork for Springdale.
The results achieved both excellent grade and recoveries, demonstrating the potential to produce high value graphite products from the project. Further test work on end uses for the product can now be advanced once a bulk sample of the concentrate is produced. The graphite concentrate produced has a unique and potentially very valuable characteristic in its size distribution, with 2/3 of the product passing the 38 µm screen. Generally, this size fraction of graphite is mainly a by-product of processing of larger flake fractions, which produces smaller size graphite, but this damages the flakes in the process, reducing their performance and value. Deposits that contain high quality ultra-fine graphite are uncommon, and as a result potential very valuable.
Further optimisation testing has continued under management of Independent Metallurgical Operations (IMO) on the flotation regime to further reduce both capital and operating cost requirements whilst increasing concentrate grade by assessing:
A reduction in the number of flotation and concentrate grinding stages;
Further optimisation in the reagent additions.
Multiple tests have been conducted for the optimisation testing which has indicated:
Reagent consumptions can be reduced by 47% with no detrimental effect to overall product grade and recovery;
Flotation stages can be reduced by 36%, further reducing capital and operating cost requirements.
Further test work on a 5-10kg sample of float concentrate in Europe is designed to convert the concentrate obtained by flotation into value added saleable products. Three different processes are to be investigated:
Purification to carbon content above 99.9%, as these carbon levels pave the way for high tech applications like usage in batteries;
Micronizing for products which require well defined small flake graphite particle for their end uses e.g. in lubricants, powder metallurgy applications or in carbon brushes;
Spheronisation for usage in Lithium-Ion-Battery Anodes for the rapidly expanding market for electrical vehicles due to the global drive to de-carbonise the transport network
These test work streams are designed to confirm the suitability of Springdale Project graphite as a precursor material for these high value added products. The next step is to first produce the required bulk sample of float concentrate for shipment to the facilities in Europe. This work is expected to be completed during the September 2020 quarter, with testing of the concentrate planned to commence afterwards.
Summary of Test Work Undertaken
Metallurgical testwork reported aimed at achieving high graphite recovery and grade by flotation to achieve a >95% graphite product. The work was undertaken on a composite sample prepared from two intervals, one being 6m (26 – 32m) from PQ diamond hole HD031 and 43.7m (42 – 85.7m) from PQ diamond hole HD024. These intervals represent shallow, high-grade graphite mineralisation from the two main resource areas at the Springdale Project (North and West zones) that Comet believes has the potential for economic extraction via open pit mining methods. The location and mineralised intervals of these holes has been previously reported in ASX releases on the 24/10/2019 (Outstanding Graphite Results from Latest Diamond Drilling) and 25/11/202 (West Zone Hole Confirms High Grade Graphite Continuity).
The sample was delivered to metallurgical expert's Independent Metallurgical Operations (IMO) who oversaw the testwork.
IMO received the prepared composite from Comet Resources as 2kg charges stage crushed to 100% passing 3.35mm. Five of the 2kg charges were combined and stage ground prior to flotation utilising a standard Denver flotation cell. Specialist reagent Ekofol-452G was utilized to conduct the flotation testing. Resulting flotation concentrates were sized at industry standard sizes, dried and submitted for total carbon assay.
It was decided appropriate to test for total carbon only as it was considered reasonable that the results would closely match the graphite carbon values and provide a lower overall cost.
Flake Size
Select drill chips have been analysed to determine flake size. Large to jumbo flakes of graphite have the highest market value and they are common in the majority of samples submitted from the Springdale Graphite Project. Some flakes were up to 500 µm in size.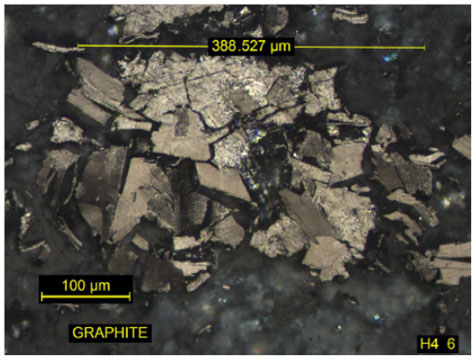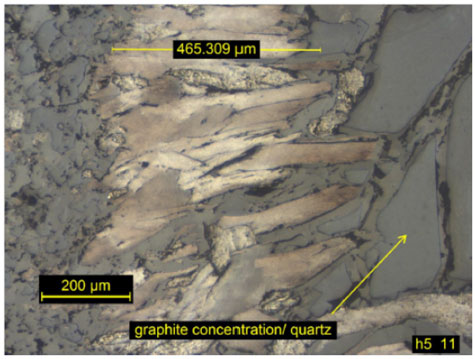 Graphene by exfoliation
In April 2017 Comet's metallurgical consultants successfully recovered graphene through exfoliation of diamond core. Research and testwork on graphene production and other graphite products including battery graphite is ongoing.