THE BARRABA COPPER PROJECT (100%)
The Barraba Copper Project is comprised of a 2,375ha exploration license that covers the project area, EL8492, is located near the town of Barraba, approximately 550km north of Sydney.
About the Project
The Barraba Copper Project sits along the Peel Fault line and encompasses the historic Gulf Creek and Murchison copper mines. The region is known to host VMS style mineralisation containing copper, zinc, lead and precious metals. Historical workings at Gulf Creek produced high-grade copper and zinc for a short period around the turn of the 19th century, and this area will form a key part of the initial exploration focus.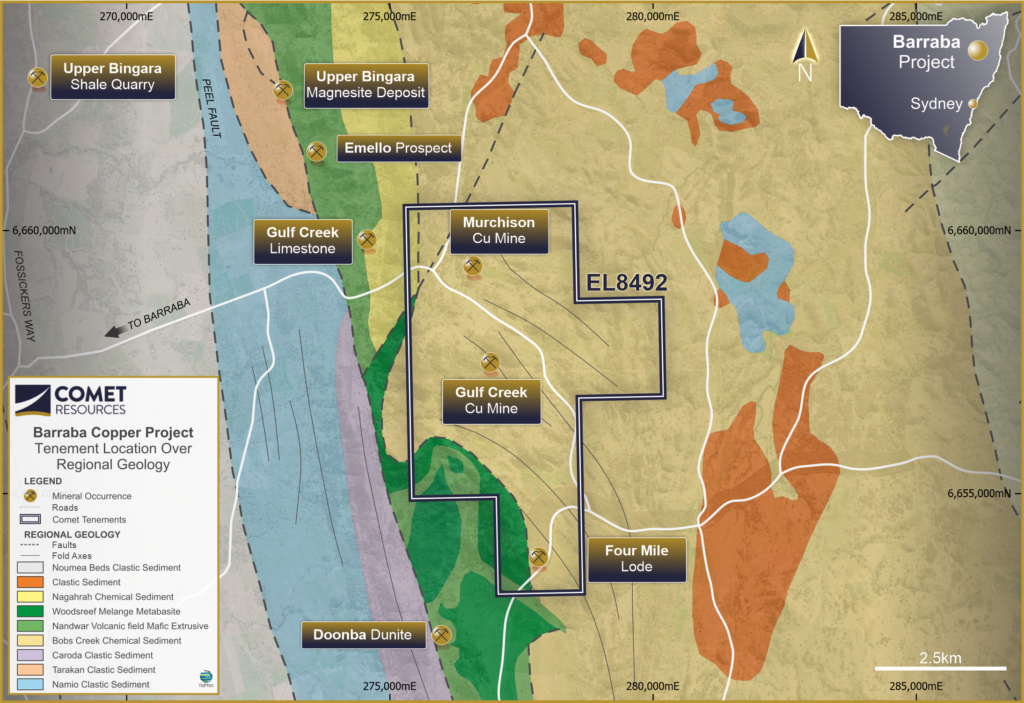 Exploration
Comet's Consulting Geologist, Mr Mart Rampe completed a visit to site in July 2020 to assess environmental and logistical conditions to enable the finalisation of planning for a comprehensive initial drilling program. This included a review of site topography and access conditions necessary for drilling equipment and support infrastructure. Mr Rampe also visited the location of historical mining and processing (known as the Gulf Creek Mine) and assessed that area in relation to current and historical exploration and mining data. Community consultation efforts were also further advanced.
The Barraba Copper Project has never been systematically tested by modern exploration techniques. Following the validation of existing exploration data, the initial exploration program will focus on the drill-testing of areas below and along strike of the historically mined lodes at the Gulf Creek Copper Mine. The drilling will be complemented with downhole geophysical surveys with the aim of providing additional information about potential parallel and blind lodes.
In addition, anomalous areas previously delineated by induced polarisation surveys are considered to be priority exploration targets and will also be followed up during the course of the same exploration program. As volcanogenic massive sulphide (VMS) deposits often occur in clusters, we are excited about the potential for new discoveries in and around the Gulf Creek Mine. Regionally, mineralisation recorded elsewhere within the licence area will also be assessed.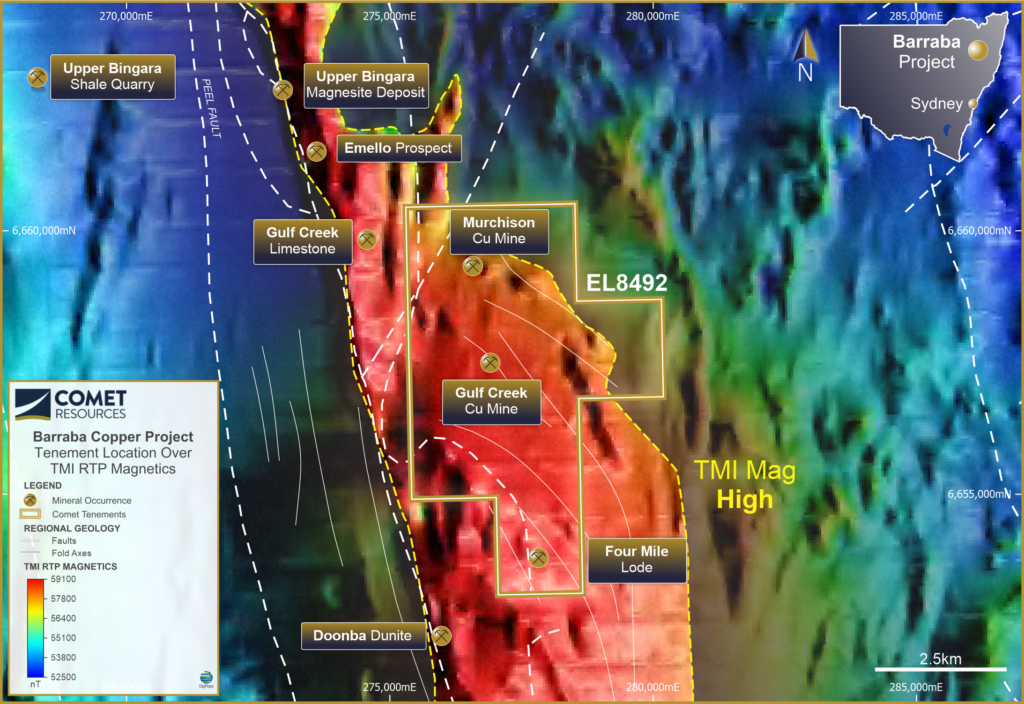 Planning for drill-hole locations for initial on ground exploration are now being finalised representing the first comprehensive modern review of the project
Initial focus will be the historical Gulf Creek Mine area, which previously produced copper at an average grade of 5%
Significant zinc was noted in historical records, but grades were never reported
Exploration will also test for the presence of precious metals often associated with VMS deposits in the style of that found at Gulf Creek